TAN
an in-depth/extended study of young home buyers
overview:
DELIVERABLE
MEDIUM
CLIENT
ROLE
DATE
TEAM
/ UX RESEARCH
/ PROJECT MANAGER
/ MARCH 2021 - MAY 2021
/ DOROTHY.L AUBREY.W RIGVED.D



motivation:
The purpose of this project is to fully understand different user research & evaluation methods by
using them to study the process of young people buying their first home. We hope to spot potential
untapped problem spaces and create creative solutions to better the home buying process.



project origin:
TAN comes from the two Chinese characters 探/谈, representing exploration and discussion. This is
reflects the research and evaluation process - to discover user needs through qualitative data
gained from conversations with target audience.



initial value flow:
To better understand the home buying process, I researched and mapped out about the whole
home buying process in the form of a value flow diagram, labeled into four categories - buy side,
sell side, real estate related services, and financial related services.



initial findings:
After understanding the current home buying process, my team and I gathered our individual value
flows, customer journey maps, and usability testing on current platforms to compile a list of topics
that we wish to discuss with young people in the home buying space. We then went out to each
extensively conduct a contextual inquiry study on young home buyer about these topics to better
understand the journey they've been through as well as problems they face. After interviewing each
person, we came together and compiled our insights, notes, and journey maps together to form
a single affinity diagram.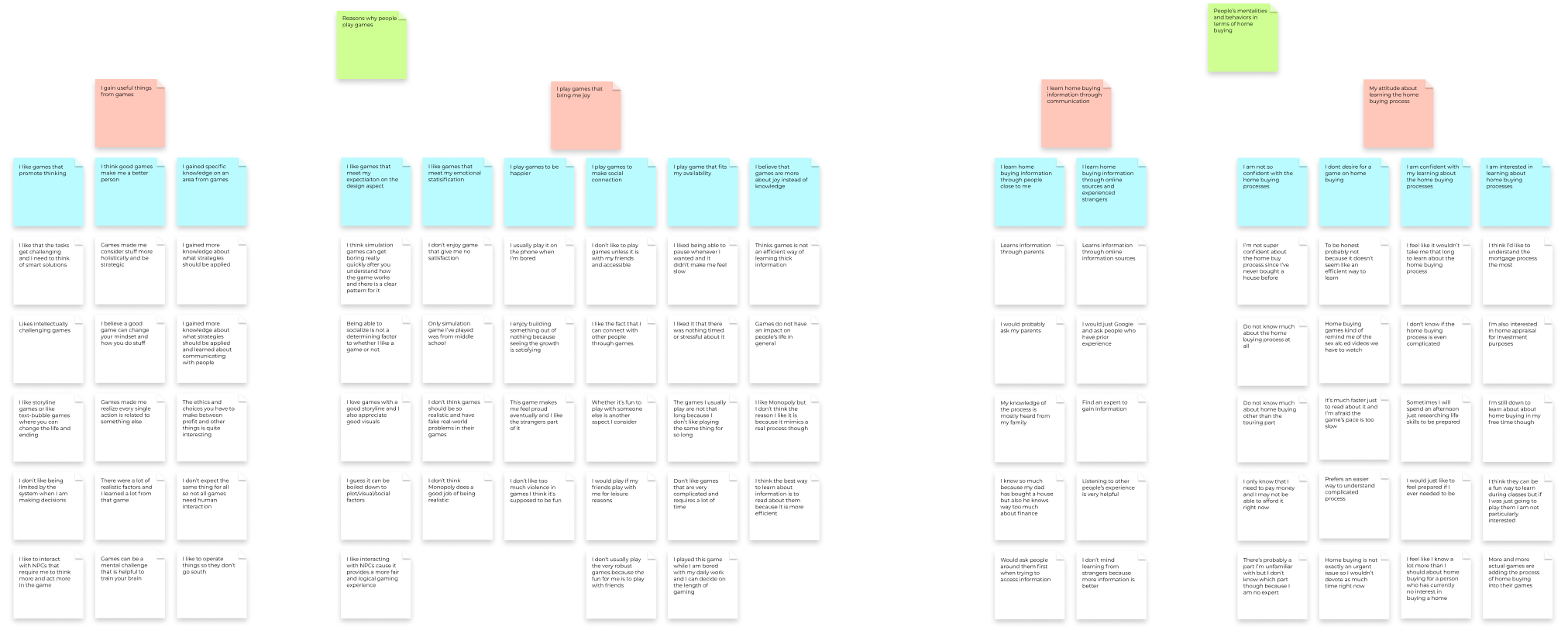 story boarding:
After going through our affinity diagram, we decided to use crazy-eights to parallel prototype out
different ideas/problem spaces. We then came together to discuss and picked our desired problem
space we want to work in for three different story board solutions (randing from safest to riskiest).
These are the needs we have identified to work on:
1) Home buyers often do not fully understand how the financial system in home buying works
2) People often do not get detailed information about housing during the pandemic
3) It's difficult to extract essential information about homebuying from the internet
4) People lack a comprehensive understanding of the home buying process



gathered insights:
We interviewed a total of 4 participants that are potential home buyers to better understand how
they would react to the alternatives we've provided in the form of story boards. Two key functions
that stood out to them are the information aggregator and immersive experience simulator. We
also discovered false assumptions and validated other assumptions we've had. These insights
leads to new found design opportunities.

Misunderstanding
1) We initially assumed that people are not lacking knowledge about financial supports because they
are new home buyers. However a lot of our interviewees have been in the process very long, but still
waiting for the moment to get their loan. We need to inform people about this way ahead of time.
2) We assumed that people do not have comprehensive knowledge because they only know a portion
of the home buying process, however, people sometimes do not aware that they are missing some
portions of the needed knowledge because they do not have a sense of how the completed process
looked like.
3) We assumed that people will feel more immersive when joining in the situation in VR, however,
we ignored the truth that a lot of people had no experience with VR before so they may get dizzy
very quickly. At the same time, making a very realistic Vr experience is going to be hard.
4) We categorized information online into essential and non-essential only based on our assumption,
however, some of the information may be categorified differently based on the user's demand and
special condition.


Validated insights
1) The home buying process is very delicate because people are spending a lot of money on something
they will live in for a very long time.
2) People value the aggregation of information (especially tailor to their personal needs) since it would
save them a lot of time and effort in finding and asking others.
3) There is a greater demand for home touring in the virtual space and a need for an immersive
experience since people spend a lot of time considering the home buying process.
4) A need of trusted source is something many look for in virtual space and that is why most tend to
find people around them instead of online resources.


Design opportunities
1) To help the user to face their real issues, it is better to categorized users before we categorize
information into essential and non-essential.
2) Before we find out which part of the home buying process is unfamiliar to the user, it is better to
inform the user what the actual process is so we target the real issue better.
3) When using VR or other technology to solve a problem, it is important to research among our
targeted users: how many of them have a VR at home or have used VR before.
4) We can get in touch with university or banks that provided college account to inform people ahead
of the time about the financial services that they may need for home buying in the future, so they
prepare for it early.



project direction:
Due to our team's background in games, design, art and software development, we decided to try
to build a game that informs young homebuyers on what the home buying process will look like in an
immersive/gamified way. Therefore, we further explored the genre and format of games, since users'
experience would depend on the activities, roles, and contexts we want to address in the homebuying
process.


final product:
Learning from everything we've tested, we ultimately decided to build a home buying adventure
map with mini-games tailored to educate users about each of step of the journey. Furthermore,
the app will include links and third party resources at each step for users to learn more and act
along the way. We believe this is the best solution because the home buying process is extremely
complex, which means a series of mini games serve as a better vehicle of learning than a single
immersive game.


Thank you for reading,
BO